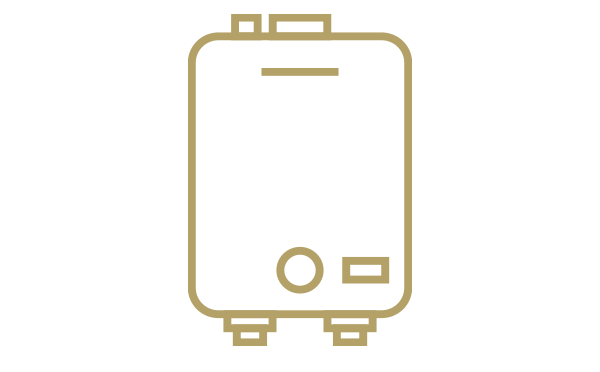 Tankless Water Heater
Sunshine Plumbing & Rooter is proud to offer our expert Tankless Water Heater service, providing you with an efficient and continuous supply of hot water. Tankless water heaters, also known as on-demand water heaters, are an innovative solution that eliminates the need for a traditional storage tank, offering several advantages for your home or business. With our tankless water heater service, we can help you enjoy endless hot water while maximizing energy efficiency and saving valuable space.
When you choose Sunshine Plumbing & Rooter's Tankless Water Heater service, our experienced technicians will guide you through the selection process to find the right tankless water heater that suits your specific needs. We work with trusted brands and offer a wide range of options to accommodate different household sizes and hot water demands. Our team will handle the professional installation, ensuring that your tankless water heater is set up correctly and integrated seamlessly into your plumbing system.
Tankless water heaters provide numerous benefits for your property. Unlike traditional water heaters, tankless models heat water only as it is needed, eliminating the standby energy loss associated with storing hot water. This not only increases energy efficiency but also reduces utility costs. Additionally, tankless water heaters offer a compact and space-saving design, freeing up valuable storage space in your home. With Sunshine Plumbing & Rooter's Tankless Water Heater service, you can enjoy a continuous supply of hot water on-demand while enjoying the energy and space-saving advantages that come with this modern technology.
Call 909-206-6731
Drain Cleaning | Leak Repairs | Clogs | Gas Leaks | Flooding | Septic Backups
Why Sunshine Plumbing & Rooter?
Mike M.

Justin is very knowledgeable, kind and helpful. He always takes the time to show you your plumbing issue and explain why it happened. He will take his time and make sure everything is perfect. I strongly recommend these guys!


Bill T.

Justin is a true professional. Was on time and very knowledgeable. Would use him again in a heartbeat.

Kimberly J.

Justin was nice and professional. He charged a fair price, guarantees his work, was honest and did a thorough job! I would recommend his work! Thanks Justin
Damian M.

Moved into a rental that had an old salt water softener system that I suspected might be working but wasn't sure. Way older system that I wasn't familiar with. Didn't want to waste $ buying salt for a broken system. Justin fit me onto his schedule same day. Inspected the system and educated me on the steps I would need to get it going. Appreciate his expertise and his knowledge of an old system I never even heard of. Would highly recommend Sunshine Plumbing & Rooter!