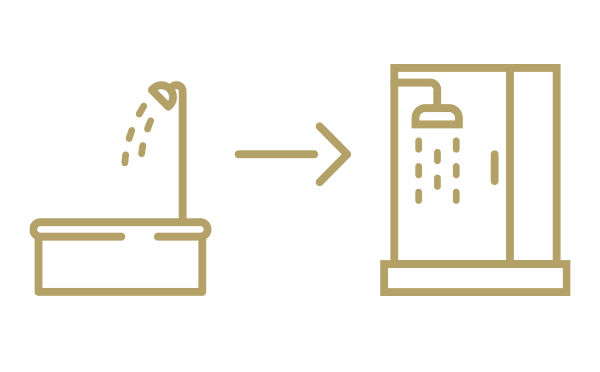 Remodeling
Sunshine Plumbing & Rooter's remodeling service goes beyond aesthetics – we also specialize in addressing plumbing and gas needs during the renovation process. Whether you're remodeling your bathroom, kitchen, fireplace, or outdoor patio, our skilled team of professionals will ensure that all plumbing and gas requirements are expertly handled. We understand the vital role of plumbing and gas systems in these areas and prioritize their functionality, safety, and efficiency.
In bathroom remodeling projects, we take care of all plumbing aspects to ensure a smooth and functional space. From installing new fixtures and faucets to reconfiguring water lines and drains, our team will expertly handle the plumbing components to bring your dream bathroom to life. We ensure that your new bathroom not only looks beautiful but also operates flawlessly, delivering reliable and efficient plumbing performance.
When it comes to kitchen remodeling, our plumbing expertise shines through. We tackle plumbing needs such as relocating water lines, installing new sinks and faucets, and connecting appliances. Whether you're upgrading to a gourmet kitchen with a commercial-grade range or creating a modern space with a sleek sink design, our team will ensure that your kitchen plumbing is professionally installed, properly vented, and meets all safety standards.
During fireplace and outdoor patio remodeling projects, we take care of the gas-related requirements. Our knowledgeable technicians are experienced in installing gas lines for fireplaces, gas logs, and outdoor grills. We prioritize safety and ensure that gas connections are properly sealed, vented, and compliant with local codes. With our expertise, you can enjoy the warmth and ambiance of your fireplace or grill while having peace of mind knowing that your gas system is professionally installed and functioning safely.
Trust Sunshine Plumbing & Rooter's remodeling service for comprehensive solutions that address both your aesthetic desires and your plumbing and gas needs. We bring together expert craftsmanship and plumbing expertise to create stunning bathrooms, functional kitchens, cozy fireplaces, and inviting outdoor patios that not only look great but also operate smoothly and safely. Let us handle all the plumbing and gas aspects of your remodeling project, allowing you to enjoy the transformation hassle-free.
Call 909-206-6731
Drain Cleaning | Leak Repairs | Clogs | Gas Leaks | Flooding | Septic Backups
Why Sunshine Plumbing & Rooter?
Mike M.

Justin is very knowledgeable, kind and helpful. He always takes the time to show you your plumbing issue and explain why it happened. He will take his time and make sure everything is perfect. I strongly recommend these guys!


Bill T.

Justin is a true professional. Was on time and very knowledgeable. Would use him again in a heartbeat.

Kimberly J.

Justin was nice and professional. He charged a fair price, guarantees his work, was honest and did a thorough job! I would recommend his work! Thanks Justin
Damian M.

Moved into a rental that had an old salt water softener system that I suspected might be working but wasn't sure. Way older system that I wasn't familiar with. Didn't want to waste $ buying salt for a broken system. Justin fit me onto his schedule same day. Inspected the system and educated me on the steps I would need to get it going. Appreciate his expertise and his knowledge of an old system I never even heard of. Would highly recommend Sunshine Plumbing & Rooter!